THE FILM
Welcome to Commie High explores an experiment in public education—Community High School. The film follows its humanistic, anti-establishment origins in the early 70s through its survival into the 90s, when enrollment demands for this alternative, small school led to a wild craze of lines, camp outs and convoluted lottery systems. Today Community High stands as one of the last public schools from America's "free school" movement. Filmed over the 2016 – 2017 school year, we see how the "Commie High" model has evolved to reflect the world around it and shows us what's possible within public education when "no" is not the standard answer.
"Moving, illuminating, instructive, and inspiring! This extraordinary documentary illuminates possibility."

– Bill Ayers, Author, To Teach: The Journey of a Teacher and Teaching Toward Freedom: Moral Reflection and Ethical Action in the Classroom
Welcome to Commie High premiered as part of the 58th Ann Arbor Film Festival, March 30 – April 6, 2020.
A "TV-hour" version of the film has aired more than 1,400 times across  80% of national PBS stations.
The film also screened in a limited theatrical release at art house virtual cinemas, including:
The Michigan Theater, Ann Arbor, MI
November 20 – December 5, 2020
The Lark Theater, Larkspur, CA
January 8 – 24, 2021
Downing Film Center, Newburgh, NY
January 8 – 24, 2021
ACME Screening Room, Lambertville, NJ
January 8 – 24, 2021
The Frida Cinema, Santa Ana, CA
January 8 – 24, 2021
The North Park Theatre, Buffalo, NY
January 15 – 31, 2021
Neptune Movie House, Long Beach, WA
January 29 – February 14, 2021
The Screening Room, Newburyport, MA. Special event with the Newburyport Documentary Film Festival
March 4, 2021 
Portland Museum of Art Films, Portland, ME
February 12 – March 21, 2021
The Tull Family Theater, Sewickley, PA
February 19 – March 21, 2021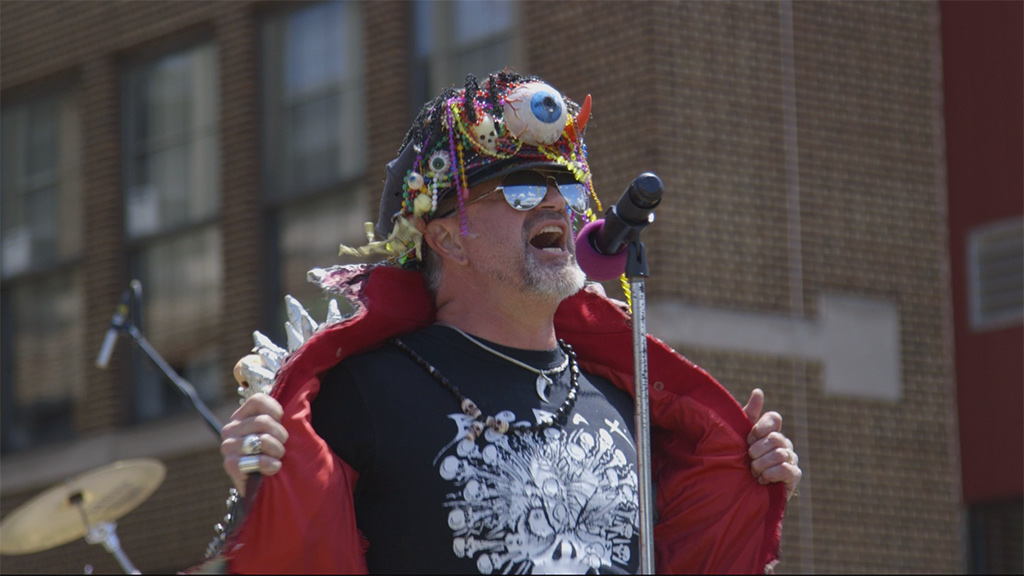 "Welcome to Commie High is a bolt of lightning, jolting us out of our cynicism and complacency. This superb film reminds us how much our students can learn, if we give them the freedom – and the inspiration – to do so."
– Jonathan Zimmerman,
Professor of History of Education, University of Pennsylvania, Author, Whose America? Culture Wars in the Public Schools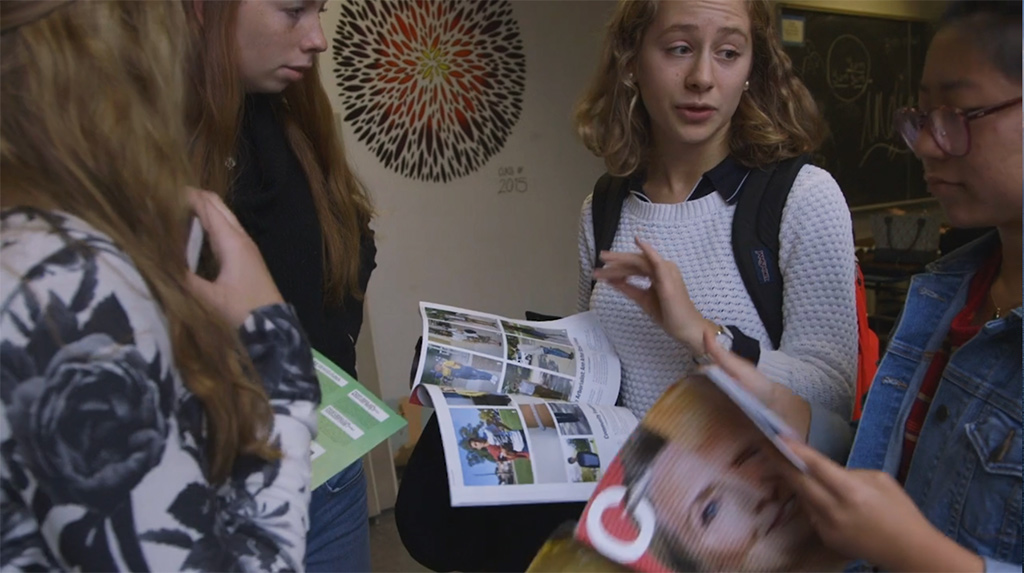 I did not attend Community High School. My curiosity comes from the outside looking in. It's a world quite different from what I experienced. I attended a well-regarded, large public high school with many good teachers. But too many students were bullied or shamed or peer pressured or got lost in a system not well-designed to support teenagers and help them develop into successful adults. I wanted to understand this different model—"Commie High"— a place built on humanistic principles; where students and parents would camp out just to attend; and so many alumni speak about how it significantly helped them develop a strong sense of self. For decades "Commie High" has withstood threats to closure, evolved within bureaucratic systems and now thrives with intense demand for its educational offerings. Yet why does it remain such an outlier in our public school system when it's fostering the development of individuality and self-expression, a primary American value?
Donald Harrison – Producer/Director/Camera
David Camlin – Co-Producer/Editor/Camera
Ingrid Racine – Music Director/Composer
Jay Sandweiss, D.O. – Executive Producer
Luke Madden & Emma Hoffman – Assistant Editors
David Fienup – Sound Mixing
Ryan Molloy – Graphic Design
Rachel DeWoskin (class of 1991)
Linda Diane Feldt (CHS class of 1976)
Paul Harrison (CHS class of 1976)
Ken McGraw (CHS teacher since 1997)
Mike Mouradian (CHS teacher 1975 – 2006)
Sara Nodjoumi (filmmaker, The Iran Job)
Davy Rothbart (class of 1992)
Kelly Stupple (CHS class of 1987)
Neda Ulaby (CHS class of 1989)
Katherine Weider-Roos (media producer/Roos Roast Coffee)
Sebastian Wreford (aka, Nitro von Borax – CHS class of 1983)
Marci Woolson (class of 1976)
Jay Sandweiss, D.O.
Fred Collin
Rick Kaufman
Melanie-Riley Green
"Commie High Theme" and original scoring
 by Ingrid Racine & Charlie Sutherland
"Blessing" by Ingrid Racine
"Intermission" by Rosewood
"Give Nick An A" by By Wednesday
"Ethersphere" by Thom Douvan
"Oracle" by Secession
"Ice Leapt With Up Resident" by Borax
"Subvert" by The State
"Longest Year" by Third Rail
"Symphony of Eating Shit, 3rd mvt." by Poignant Plecostomus
"(Spirit of) Leslie Kong" by Etch-A-Sketch
"Ann Arbor Part 3 & 4" by Shigeto
"Open Arms" by Blue Vinyl/Laith Al-Saadi
"Heavens" by The Left Lanes
"Unseen Forces" by Justin Walter
"Thunderstorm" by The Ninjas
"For Who" by Short Dead Dudes
 Students at Community High who earned credit
assisting on the film:
Emma Hoffman          Tyler Davis-Kean
Marcelo Salas               Isaac Agronoff
Antoni Alvarez             Sam Millman
Sunday Quillen           Mark Rafaelian
Marika Chupp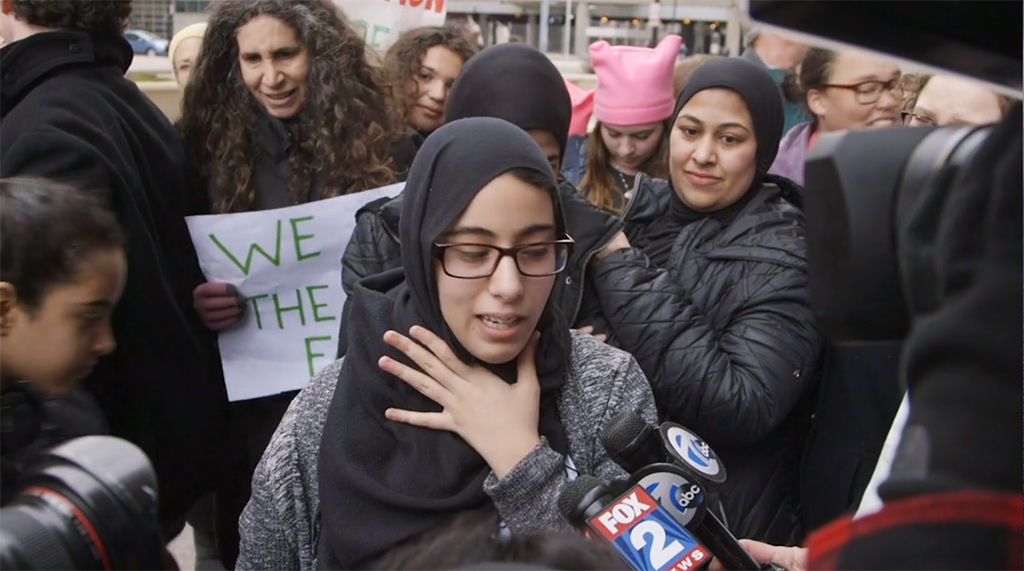 Thank you Backing Underwriters
Angel Rogers Welker, Pam & Greg Davis-Kean, Jay & Sue Sandweiss, SavCo Hospitality, John Briere, Hedieh Briggs, Ruth (Calhoun) Facer, Mary Corcoran & Howard Erman, Dessous/Multiverse Hospitality, Elizabeth Barick Fall & Jeffrey Fall, Irene Fast, Adam Goodman, Michael Moore, Larry & Lucie Nisson, Josh Pokempner, Spencer PriceNash, Jeri Lynn Rosenberg & Vic Strecher, Lori & Paul Saginaw
Thank You In-Kind Organization & Business Backers
Zingerman's, Roos Roast, Arbor Teas, Mindo Chocolate, The Brinery, UM Lloyd Hall Scholars Program, Elmo's T-Shirts
Thank YOU 450 Kickstarter Backers
Aaron Valdez, Ace Anbender, Adam & Gillian Gainsley, Adam Goodman, Adam Kasha, Adam Melis, Adrianna Jordan, Alan & Lisa Dengiz, Alan Botts, Alan Levy & Susan Pollans, Alex Hencken, Alex Smoller, Alice Collins-Thompson, Alison K. Landau & Peter C. Tsangaris, Allan G. Feldt, Amanda Scotese, Amy McKibben Cormier, Amy Hughes, Amy Klinke, Amy Nesbitt, Amy Smith, Andra Artemova, Andreas L. Hug, Andrew Epstein, Andrew Thomas Kuster, Andrew Wilhelme, Anita Baker-Blocker, Ann Arbor Community Acupuncture, Anna Danziger Halperin, Anna Eley, Anna Goldman, Anna Sampson & Daniel Herbert, Anna Steinhoff, Anne Carr, Anonymous(x3), Ari Litman-Weinberg, Ari Weinzweig, Arthur & Nancy Brickman, Athena Anteau, Barbara & Ron Kramer, Barbara Simmons, Ben Evans, Ben Glass, Ben Jenkins & Brenna Reichman, Ben Mancell, Ben Mullins, Ben Nimkin, Ben Winter, Beth Barclay, Beth Farnham, Bill Emerson, Billie Ochberg & Sandro Cinti, Bob & Barb Dinan, Bob and Deb Merion, Bobbi Chase Wilding, Bobbie Tucker, Brad Jodoin, Brenda Reed, Brian Robb, Brian Tomsic, Brianna Kenyon, Brittanie Leibold, Bryan Beecher & Deborah Evans, Caitlin H., Caitlin Magee, Candace Roberts, Carolyn & Gioacchino Balducci, Cary McWilliam, Cassidy Durkee, Catherine Thursby, Cathy Bolton, Ce Ce Chin, Charlotte Pagni [Barak], Charo Ledón, Cheryl & Mike Grace, Chloe, Chris Dzombak, Chris Goosman, Chris Sandon, Christen Lien, Christina Morales Hemenway, Christina Hover (Tabaczka), Christina Richason, Christopher Pannier, Claire Mannle's mom, Clint Wallace, Colleen Sherman, Collin McRae, Cynthia Nicely, Cyrus Morshidi, Daniel Mayman, Danny Plotnick, Dave Miller, Dave Morris, Dave Pekarek Krohn, David Bergman, David Gilbertson, David Heitler-Klevans, David Lamb, David Olson, David Santamaria, David Welgus, David Zinn, Davy Rothbart, Deborah Greer, Deborah Kraus, Deidre Santella, Devon Rose Atwood, Donna Eis, Doug Scott, Douglas Allen, Ela Greenberg, Eli Neiburger, Elise Fish, Ellen Lamphiear, Emilia Javanica & Sudandyo Aprilianto, Emily Brown, Eric Bradley, Erica Stephan, Erin A. Gilligan, Erin Thoresen, Eva Rosenwald, Evelyn Collins, Faith, Farai Chideya, Florencia Rojo, Food Gatherers, Frank Pahl & Terri Sarris, Fred S. Weiss & Audrey E. Weiss, Gary Hochgraf, Genia Service, Gilda & Louis Johnson, Gina Amalfitano & David Cappaert, Gloria Jean Dykhouse-Beckstrom, Graham East, H.D.Braun, Hannon Clark Hylkema, Hedieh Briggs, Helen Harding, Hillerbrand + Magsamen, Ian Avery-DeWitt, Ian Jones, Ingrid Ducmanis, Irene Ametrano, Jake Scobey-Thal, James Artz, Janelle Reichman, Janet Harvey, Jason Frenzel, Jason Li, Javan Makhmali, Jay Marcovitz, Jaye Schlesinger, Jean Fitts Cochrane, Jean Henry & Ada Banks, Jeff Banet, Jeff Meyers, Jeffrey Scott Basham, Jen Jones, Jen Proctor, Jenn Sramek & Bob Weber, Jennie Lieberman, Jennifer & Kevin & Ty & Ryder Takahashi, Jennifer Behnke Schaller, Jennifer Kanalos, Jennifer Page, Jenny Mayes McKillop, Jeremy Robins, Jeri Lynn Rosenberg & Vic Strecher, Jerry Buffman, Jerzy Drozd, Jessica Stuenkel, Jim & Celeste Novak, Jim Clarkson, Jim Rampton, Joe Durrance, Joe Malcoun & Caitlin Klein, Joelene Piatt Brzezinski, Johanna Epstein & Steven Katz, John Austin, John & Nannie Maxwell, John Kenneth Weiss, Jonah Shifrin, Josh Silverman, Joshua Crites, Jospeh Morita, Judy & Paul Freedman, Juliet & Narooz & The Lil' Truck, Justin Dykhouse, Karen Chassin Goldbaum, Kari Jones Plesco, Kate Levy, Katherine McMahan, Katherine Weider Roos & John Roos, Kathleen Buck, Katie O'Brien, Kelly Stupple, Ken Luther, Ken Novak, Ken Winter, Kessa Shipley, Kevin Roy, Kim Devine Lombardini, Kirk & Cynthia Westphal, Kirstin Queen, Komani Lundquist, Kris Truzzi, Kristin Chiles, Kristin Hermanson, Kristina Grabbe, Kristine Moore Meves & Eric Meves, Krysta, Kyle Lady, Lara Cooper, Lara Wineman, Larry Jones, Larry Tuttle, Laura Russello, Lauren Houser, Laurie Nobilette, Lawrence La Fountain, LD, Leah Zagreus, Lenny Swanson, Leslie Raymond, Lewis Wallace, Lilia Epstein-Katz, Lily Baker, Linda Camlin, Linda Diane Feldt, Linda Peck, Lisa & David & Miles & Ava Borgsdorf, Lori Roddy, Lorin Fries, Luke Madden, Luke Taylor-Ide, Lynda Asher, Lynn Sharrock, Magalí Rabasa, Maisie Wilhelm, Malcolm Tulip, Mandira Banerjee & Aswin Punathambekar, Mara Gibson, Marci Woolson, Margaret M Smith, Margaret Parker, Margie & Graham Teall, Maria Alexander, Mariah Cherem & Jeremy Wheeler, Maricarmen Guell, Marilyn Koster, Marion Cunningham, Mark A Rakowski, Mark Bernstein, Mark Tucker & Trish Meyer, Martha Andrews-Schmidt, Marti Gukeisen, Marty Fischhoff, Mary Corcoran & Howard Erman, Mary Horrocks, Mary Morgan, Mary Morrissey, Mary Thiefels, MaryBeth Stuenkel, Matt Royston, Matt Wilson & Heather Glidden, Matthew Sinkewjz, Maya Barak, Megan Watt, Megan Whitmarsh, Melanie Maroney, Melanie Riley-Green, Melissa Kosmicki, Melora Goosey, Michael Abdou, Michael Blumson, Michael Page, Michael Forster Rothbart, Mickey & Scott Sperlich, Mike & Santa Traugott, Mike Allemang & Janis Bobrin, Mike Cardew, Mike Gould, Mike Hensel, Mike Mouradian, Mitchell & Carol Fleischer, Molly Welch-Marahar, Myra & Rich & Max Klarman, Nancy Dean, Nancy Mayo, Nancy Szabo, Nease Family, Neda Ulaby, Nick Collins, Nick Tobier, Nicole, Noah Haidle, Noah Kaplan, Nora E. Weiss, Norh Miles, Onna Solomon & Jonathan Schwartz, Owen Grumbling, Pam & David Rawson, Pam & Greg Davis-Kean, Pam Reister & Griffin Johnson, Patricia Wagner, Patrick Dunn, Patti Smith, Paul Wiener, Paul & Tisha York, Paul Fagan, Paul Schutt, Paul Shea, Peggy Hefner, Peter Creekmore, PF Anderson, Philip Rachford, Photonic Legal PLLC, Pierce Edmonds, Porter's Family, Rachel Carter, Rachel Dengiz, Rachel DeWoskin, Rachel Kessler Rowe, Rachel Portnoy & Adam Eichner, Rachel Tannenbaum, Rachel Truscon, Rachel Wood, Rebecca, Reena Liberman & Peter Nagourney, Reighan Gillam, Ricco DeCola, Richard & Joanna Millunchick, Rick & Adrienne Harrison, Robert Galardi, Robert Kaner, Robert MacKercher, Robert Nagy, Ron Tabaczka, Ronald J Kimball, Russ Collins & Deb Polich, Ryan Burns, Ryan Stanton, Samantha Edwards, Sandra Helm, Sandy & Sheldon Danziger, Sara Nodjoumi & Till Schauder, Sarah Beth Richman, Sarah Headly, Sarah Soebbing, Sarah Watt Ercolani, Sarah Welch, Sasha & Scott Meves, Sebastian Wreford, Shai Segall, Shamsher Virk, Shane Devine, Shannon Gibney, Shannon Kohlitz, Shannon Materka, Sharad Kant Patel, Sharon Jue, Shary Brown, Shoshana Hurand, Shumit DasGupta, Sirad Balducci, Siri Gottlieb, Sonya (Fichter) Schryer Norris, Steiger, Stephanie Armstrong, Stephanie Harrell, Stephen Warrington, Steven & Karen Camlin, Stuart Chalin, Susan McLeary, Susan Miller & Allen Batteau, Susan Shapiro, Susan W Jonas, Susan Wineberg, Susannah Keegan, Suzy Wienckowski, Talia Glass & Shawn Ingram, Tamar & Charles Weaver, Tamara Real, Tanya Luz, Ted & Erica Hanss, Temu Nana, Teresa Murphy, Thao & Helen Vuong, The Liz, Thomas Hennessey, Tim & Janice Doyle, Tim Pulice, Tom Bray & Jeri Hollister, Tom Phillips, Tracy Busha, Tracy Summers Toepfer, Valerie Mangual, Vanessa Sly Thoburn & Martin Thoburn, Vault of Midnight, Veena Kulkarni, VGKids, Vickie Wellman & Ian Macgregor, Vidya Ramaswamy, Weston Andros Adamson, Will Cooper-Daub, William Kelley, Zach, Zahreen Ghaznavi, and Zita Gillis.
And thanks to additional PROjECT donors
Adam Melis • Anonymous • Archie O'Connor • Betsy King • Dan Bruell • Emma, Dane, Patty & Bob Hoffman • Eva Rosenwald & Chris Taylor • Gay MacGregor • Ingrid Ankerson • Ivan Kral & Cindy Hudson • Judy Freedman Kalyan Bani Kaur • Kelly Stupple • Kristin Chiles • Michael Appel & Ruth Kraut • Michael Stack • Nagourney/Liberman Family • Renee Rutz        Reena Liberman • Richard & Myra & Max Klarman • Sandra Danziner • Sarah & James Douglass • Shary Brown • Sylvia Meerten • The Danziger Family • Thomas Douvan • Toko Shiiki • Applied Fitness Solutions • Arbor Teas • Big Sky Recording • The Brinery • Cisco – Bright Funds • Elmo's T-Shirts • Mindo Chocolate Makers • Roos Roast • Team Rehab • Vie Fitness & Spa